2018 Seattle Baroque Flute Summer Workshop
Janet See, Director
Kathie Stewart, Assistant Director
Join us for a rich and intensely focused week that will include classes in tone production and technique, chamber music ensembles, Alexander Technique, masterclasses, and special topics such as baroque dance. Professional musicians from the Seattle area (baroque flute, lute, violin, cello, viola da gamba, and harpsichord) will be coaching and playing in student ensembles. Wednesday afternoon and evening will be free for exploring local sights: the Pike Place Public Market, our local chocolate factory, or boat excursions on Puget Sound. 
"A priority on my schedule! Thanks so much to both Janet and Kathie for their wonderful leadership and supportive, collaborative, inspiring and fun teaching. Also, to be joined and coached by such amazing faculty on other baroque instruments enhanced our experience and understanding of baroque music hugely - please bring them all back."
"Cannot too highly praise the direction and teaching and the inspired creation of a finely balanced array of superb quality. Brava, brava. And thanks."
"Am definitely returning. THANKS SO MUCH for a fabulous week. My coaches taught me so much... the community was very supportive... it was an intense week but a true highlight of my year! Thanks Janet and Kathie!"
"I so appreciated meeting and hearing all participants and feeling accepted… Having other Baroque instrumentalists there to give texture and coach and round out the whole experience was epic. Thanks abounding to you, Janet, for your attention to details as well as to the large picture, for your perceptive and encouraging teaching, for your soul-fulfilling playing (even on warm ups and techniques), and for your positive and inspiring presence."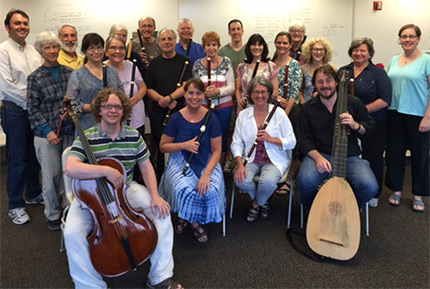 Location
The workshop takes place on the beautiful campus of Seattle Pacific University. Nearby are the colorful Fremont and Queen Anne districts of Seattle, both of which abound in restaurants and coffee shops. Students will be able to prepare meals in residence hall kitchens or purchase meals on campus. Lodging will be in single rooms with private baths. Evening sessions, informal music making, and sharing meals contribute to the richness of the week.
To REGISTER
or for more information
click here