2017 Seattle Baroque Flute Summer Workshop
Janet See, Director
Assisted by Kathie Stewart
Join us for a rich and intensely focused week that will include classes in tone production and technique, chamber music ensembles, private mini lessons, Alexander Technique, masterclasses, and special presentations in topics such as baroque dance. This year we will have coaches on flute, violin, lute, viola da gamba and harpsichord for mixed ensemble repetoire. Wednesday afternoon and evening will be free for exploring local sights: the Pike Place Public Market, our local chocolate factory, or boat excursions on Puget Sound. 
"This is the most nurturing, instruction-based workshop I have ever attended. The two of you have so much experience and information to share, and you do it with a sincerity, gentleness, and genuine love for the instrument and its music. I hope to be back again and often." JM - Brunswick, GA
"The Seattle baroque flute workshop concept, schedule and implementation are very close to perfect for the needs of a wide range of participant levels." ML – Boyertown, PA
"…this was an incredible week, and I feel so lucky to have been able to participate! It was quite inspiring to share in the passion that others of so many varying skill levels and ages have for the instrument. Thank you Janet and Kathie!" SP – Seattle, WA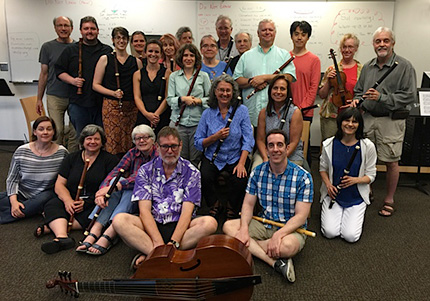 photo: JuanPablo Jofre
Location
The workshop takes place on the beautiful campus of Seattle Pacific University. Nearby are the colorful Fremont and Queen Anne districts of Seattle, both of which abound in restaurants and coffee shops. Students will be able to prepare meals in residence hall kitchens or purchase meals on campus. Lodging will be in single rooms with private baths. Evening sessions, informal music making, and sharing meals contribute to the richness of the week.
To REGISTER
or for more information
click here