Registration is Now Open
2021 Seattle Baroque Flute Summer Workshop
*In Person (pending) and Online
Janet See, Director
Kathie Stewart, Assistant Director
"What can I say? This is earthly paradise…"
We look forward to welcoming students back to the beautiful Seattle Pacific University campus for a week rich in chamber music, master classes, Alexander Technique, and classes focusing on tone production, technique, and the interpretation of our 18th century repertoire. Always a highlight of the week, students will be joined by some of Seattle's finest professional musicians in the field of Early Music who will be coaching and playing in student ensembles. Wednesday afternoon and evening will be free for exploring local sights: the Pike Place Public Market, our local chocolate factory, or boat excursions on Puget Sound.  
"Another fantastic one in the books. The level of playing is definitely going up and I think that the refinements and adjustments are raising the quality bar every year. Thanks to you and Kathie for your passion and generosity–it makes a profound impact not just on our flute playing but on our lives."
"I found this week inspiring. Not just the intense, focused involvement with beautiful music, but also the human side–the shared curiosity, the generous help, and perhaps especially so many people's open pleasure for each other's success."
*This year, we are presenting an in-person, as well as an online workshop. The in-person workshop is pending, and will be reliant upon a continuing and significant decrease in Covid-19 cases both locally and nation wide. If we are able to offer the in-person workshop, students will need to meet the following requirements:
• Students must be fully vaccinated.
• Students must have received a negative Covid test prior to arriving at the workshop.
• Wearing face masks, whenever possible, will be required.
If in person, we will resume our chamber music ensemble sessions.
• Ensemble rooms will be large and well ventilated, with the players spaced widely apart from each other.
• All classes will be held in large rooms with good ventilation and class sizes will be smaller.
• Housing will be in Single Occupancy Apartments with private kitchens and baths.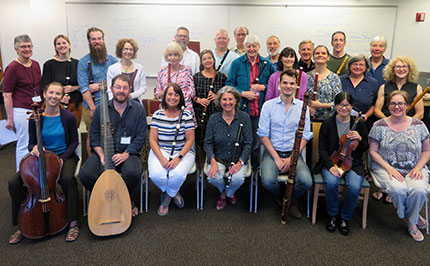 Location
The workshop takes place on the beautiful campus of Seattle Pacific University. Nearby are the colorful Fremont and Queen Anne districts of Seattle, both of which abound in markets, restaruants and coffee shops. Evening sessions, informal music making, sharing meals, and walks along the Lake Washington ship canal all contribute to the richness of the week.
To REGISTER
or for more information
click here