2022 Seattle Baroque Flute Summer Workshop
In person at Seattle Pacific University
Janet See, Director
Kathie Stewart, Assistant Director
We look forward to welcoming students to the beautiful Seattle Pacific University campus for a week rich in chamber music, master classes, Alexander Technique, and classes focusing on tone production, technique, and the interpretation of our 18th century repertoire. Always a highlight of the week, students will be joined by some of Seattle's finest professional musicians (baroque flute, lute, violin, cello, viola da gamba, and harpsichord) who will be coaching and playing in student ensembles. Wednesday afternoon and evening will be free for exploring local sights: the Pike Place Public Market, our local chocolate factory, or boat excursions on Puget Sound.  
"For me this was the best workshop ever (but I probably say that every year). It's the phenomenal directors and participants who make the week so special. The warmth and inclusiveness, the choice of music, every little thing synchronizes to make this workshop a respite from the world and an inspiring, healing place to be. Cannot thank you enough!"
"Love the kindness and supportive spirit of this workshop."
"I really appreciate that this workshop experience is unique in its generous support of every player, and the respect for and understanding that every one of us is on a different journey with this beautiful instrument is always evident. Thank you! Can't wait for next year!"
"It was once again a week in heaven."
This year, we are again presenting an in-person workshop. As of January 2022, due to the continuing uncertainly of the COVID virus, students will need to meet the following requirements for attendance
• All Students must be fully vaccinated.
• Students must have received a negative Covid test prior to arriving at the workshop.
• Wearing face masks whenever possible may be required.
–––
• Ensemble rooms will be large and well ventilated, with the players spaced widely apart from each other.
• All classes will be held in large rooms with good ventilation and class sizes will be smaller.
• Housing will be in Single Occupancy Apartments with private kitchens and baths.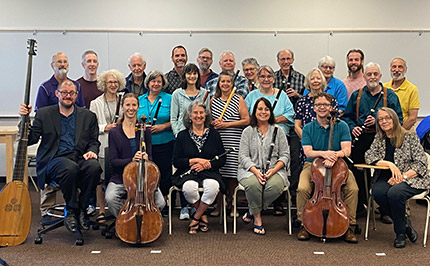 Location
The workshop takes place on the beautiful campus of Seattle Pacific University. Nearby are the colorful Fremont and Queen Anne districts of Seattle, both of which abound in restaruants and coffee shops. Evening sessions, informal music making, sharing meals, and walks along the Lake Washington ship canal all contribute to the richness of the week.
To REGISTER
or for more information
click here